I have many ebooks available. The best way to purchase them is to check out the relevant pages devoted to my work on
Amazon
or
Smashwords
.
I am proud of all of them but I am especially pleased with the following:
The Sticky Situations of Zwicky Fingers
Zwicky Fingers is a giant fruit bat detective who lives in the past, present and future simultaneously. He is often consulted by the police force when there are paradoxical, lateral or impossible crimes to be solved. His sticky situations are ten tricky cases, one for each finger of two human hands; but hands belonging to whom? That's just one of the mysteries you may or may not encounter when you join Zwicky on this decathlon of Calvinoesque whimsies! Prepare yourself to meet Mr Hyde and Dr Seek, the Sock Camels, the werewolf who prefers muesli to flesh, and many other curious beings in a world that isn't quite like our own...
The Tellmenow Isitsöornot
A bumper book of exactly 100 stories by a cult writer who has been highly praised by Michael Moorcock, Jeff VanderMeer, Michael Bishop, Brian Aldiss and many others. 'The Tellmenow Isitsöornot' was a nonexistent book of tall stories that Edgar Allan Poe invented as a joke in one of his tales; try saying it in an Irish accent and it should come out as "Tell me now, is it so or not?" and this gives a hint of the flavour of the tales presented here by Rhys Hughes, a selection that is not only tall but broad, featuring a large cast of odd characters in peculiar situations. Many of the stories in this whimsical collection have never been published before, or were published in very obscure small-press magazines with tiny print runs back in the 1990s. Ghosts, werewolves, talking brass heads, captured moons, mechanical men, alchemy, magic and transformation, all these and more rub shoulders in a minor Decameron of devilish delight!
Better the Devil
A revised edition of a collection of stories totalling 100,000 words of fiction that span the entirety of the career of cult author Rhys Hughes.... Ghosts, vampires, mythological beings, eccentrics, mad inventors, demons and other strange beings can be found cavorting here, sometimes seriously, sometimes comically, with original and unique results. To quote the great A.A. Attanasio: "Better the Devil compiles eight chapbooks of short stories that offer dazzling disintegrations of the reality principle. These are rites of passage to the greater world beyond common sense. Their levity raises the bar on profundity and sets a comic standard for the tragic limits of our human experience. Like parables, these antic tales reveal by hiding. And like the Uncertainty Principle, they guard the secret of being from intellectual bondage. They're fun! Like Beckett on nitrous oxide. Like Kafka with a brighter sense of humor."
And here are just a few more:
Tired of being given good advice in fables and parables by wise men, sages and gurus? Why not try
Rhysop's Fables
instead, a set of 150 amoral and irresponsible fables? There are no messages here telling you how best to live your life. That kind of thing is entirely up to you! The philosophy of
Rhysop's Fables
is that there are no answers to life because life is not a question...
Join a cast of crows, clouds, aardvarks, snails, robots, foxes, dinosaurs, ghosts, pickle jars and many other beings and things in the great quest to fail to unravel the mysteries of existence! You won't regret it; and even if you do, you won't regret your regret!
To buy this book from Smashwords, click this link:
Rhysop's Fables
. To buy it from Amazon, click
here
.
Facets of Faraway
is now available from Smashwords. Tales of distant places, other times and strange beings, somewhere under the rainbow way down low... Incompetent explorers; knights, goddesses and viscounts that don't exist (but who are stuck in trees anyway); castles that give birth to baby fortresses; anti-matter monsters that meet and greet their twins; robots in lingerie; and a scientist who believes that all the energy in the universe is draining away through a hole in spacetime and who has a cunning plan to plug the leak!
For the price of $2.99 (that's £1.95 in British money) this cornucopia of delights can be yours, provided you have electronic reading apparatus. If you don't, you'll just have to imagine the stories instead! Here's the relevant link:
Facets of Faraway
. Includes plenty of unpublished or hard to find stuff. If you buy this ebook, thanks! If you don't, no worries!
Courtesy of Gloomy Seahorse Press, I'm pleased to announce that
The World Idiot
ebook is now available from Smashwords.
With a delightful cover by Kendal Obermeyer,
The World Idiot and Other Absurdlings
features 15 short-stories selected from the past two decades of my writing career, including the award-nominated 'Rediffusion'.
It costs $2.99 and can be purchased directly
here
.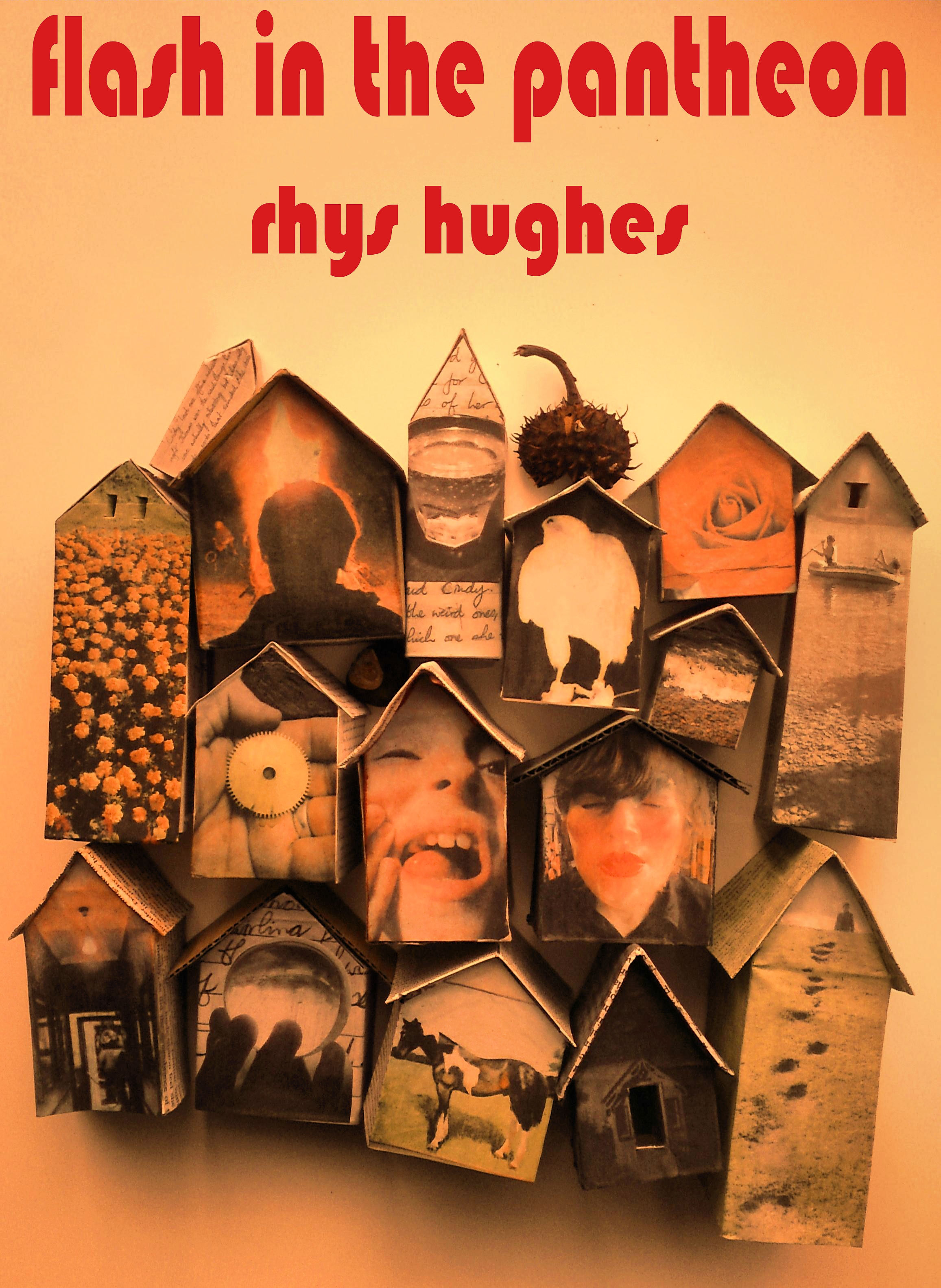 Here's a collection of exactly 101 flash fictions called
Flash in the Pantheon
and it's available for the Kindle or other ebook reading device for the grand sum of $2.99 (that's about £1.90 or just under 2 pence per story in British money). If you're interested, you can buy it
here
.
What is a flash fiction? When I was younger flash fictions tended to be called 'short shorts' and the undisputed master of the form was Fredric Brown. The ideal flash fiction should certainly be less than 1000 words long; better if it's less than 500 words. Other masters of this miniature genre include Franz Kafka, Daniil Kharms and Jorge Luis Borges, of course! There are some free samples by various writers on the
Gloomy Seahorse
blog.
Another of my ebooks from
40K
has just been released. It's a second 'Sampietro Mischief' tale. This time the renowned absurdity investigator is up against an army of Marco Polo clones. With minimal help from Chives, his assistant and pet monster, can he prevail against the metafictional obstacles he is sure to encounter???
Without wishing to be curt, the answer is yes, he can; but in a most unexpected way. This story is my boldest tribute so far to my favourite writer, Italo Calvino, and consists of two parallel journeys: (a) that of Sampietro Mischief across the landscape of Litalia to the imperilled city of Calvino, (b) the journey of the reader through a cunning medley of Calvinoesque incidents and situations. Although it's a sequel to 'The Astral Disruptor' it is also a stand-alone adventure and can be purchased from Amazon
here
for the grand price of $1.34 (that's a massive 86p in British money).
Also from 40K and available in Italian as well as English, Scamps of Disorder
explores two sides of a very strange coin: the antics of a secret society dedicated to causing as much trouble in the world as possible in order to pre-empt unjust accusations (you can't be wrongly accused if you're guilty of everything). But the members haven't analysed the implications of multiplying negatives... I may add more stories to the 'Scamps' series eventually. I do have an idea for another called 'The Biscuit Viziers of the Tongue Sultan' but I don't know when I'll find time to write it.
This ebook is available for the grand sum of £0.71 or the equivalent fraction in euros and dollars.
40K
have just released my new ebook.
The Phantom Festival
is a story about a music festival for ghosts, a sort of spooky WOMAD, where all the great dead musicians of former times are free to play on a variety of different levels deep under the ground. The deeper the level, the further back in time the performance. So if you want to listen to the troubadours of the 12th century (Guilhèm de Peitieus, for example) you have to go rather deep; in the story, the narrator decides to go right to the bottom to attend the
very first musical performance ever
. That's the main conceit of the tale. Obviously things don't go quite to plan; the operative word here being
things
.
The Phantom Festival
is available in Italian (
Il Festival dei Fantasmi
) as well as in English, at the grand price of $0.99 (or £0.71). Yes, that's right. Seventy one pence. More details can be found by
clicking here
.
The Astral Disruptor
is now available in an omnibus edition with other novelettes by Bruce Sterling, Mike Resnick and Kristine Kathryn Rusch. This omnibus is available in Italian as well as in English.
I'm delighted to be included in the same omnibus edition as those other writers, especially the superlative Bruce Sterling! The ebook can be purchased from many different outlets, including Smashwords
here
.
40K (Fortykey)
are a publishing house based in Italy. They specialise in ebooks in a variety of languages, Italian, English, French, Spanish and Brazilian Portuguese. Each of their ebooks is a short story or essay with an average length of 40,000 characters, in other words about 8000 words, hence the company name. So far they have published works by Bruce Sterling, Dario Tonani, Jacob Appel, Kristine Kathryn Rusch, Thierry Crouzet, Paul Di Filippo, Mike Resnick and many others. The list of great authors is growing all the time and prices are low, just €2.90 per ebook.
I am pleased that some of my own efforts are going to be issued by 40K. First up is a story I wrote called The Astral Disruptor, the inaugural exploit in a projected series of tales set in the imaginary land of Litalia, where every city is named after an Italian writer and has some inherent quality reminiscent of the style of that writer. The Astral Disruptor ('Il Disgregatore Astrale' in Italian) is set in the city of Buzzati and features the renowned absurdity investigator, Sampietro Mischief. I hope to write many more adventures involving this fine gentleman and his monstrous servant, Chives, probably set in other Litalian cities, such as Eco, Levi, Gadda, Dante, Ariosto and Svevo, etc.
The Astral Disruptor
is available from Amazon, Bookrepublic and many other places, including Smashwords
here
...